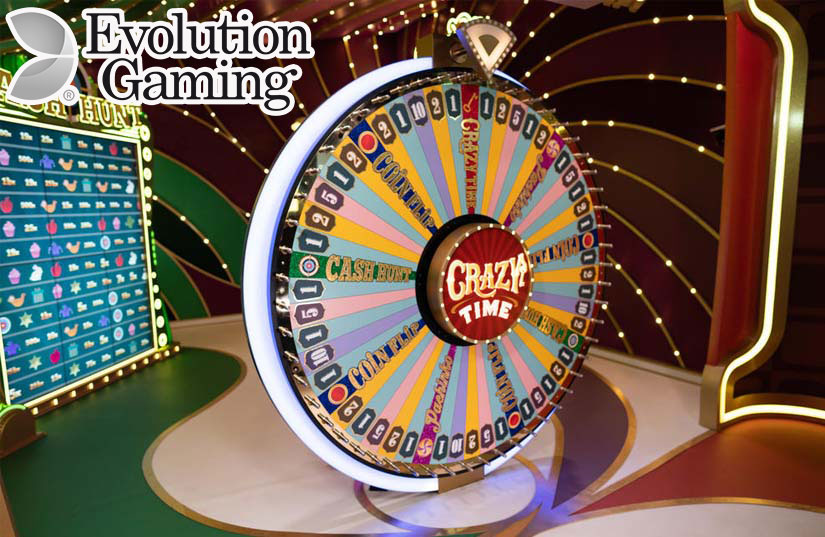 Maltese live dealer casino game provider Evolution Gaming has lined up its next big product – Crazy Time. For the uninitiated, this is the costliest casino game ever! Players can win up to 160000x their original bet – a reason why every punter is swooning over it. As per sources, the game is being released on June 9th this year.

The game resembles a gambling wheel spun by a live dealer and paying out multiple prizes. Crazy Time has four bonus rounds, each with huge earning potential.
Round 1 – Pachinko
Crazy Time includes a bonus round called Pachinko. It has been inspired by a game of the same name that is immensely popular in Japan. In this round, the dealer drops a ball from the top of the screen. It tumbles down and eventually rests on a dedicated slot. Depending on which slot it lands, a corresponding reward is paid out. Players can win up to 500x in a single multiplier or even a double slot that would fetch them over 1000x their bet.
Round 2 – Cash Hunt
This round contains a board game that resembles the turn-them over style. Cash Hunt in Crazy Time offers players the opportunity to choose a square on the board and grab winning up to 75x their original bet. This is 2x the odds a regular roulette table offers on a single number!
Round 3 – Coin Flip
In the third bonus round called Coin Flip, two prizes appear on the screen in red and blue respectively. Players need to select their colour and wait for the coin flip. The winnings are as high as 5000x the original bet.
Round 4 – Crazy Time Wheel
This one is a bonus round with the largest single win option. The Crazy Time Wheel bonus round offers players an opportunity to win anything between 10x to 160000x their original bet. The wheel has three flappers marked on it, which determine the prize money.
Because of its not-so-unique yet exciting gameplay and insane win potential, Crazy Time has received a warm welcome from punters worldwide. Watch this space for more updates about the game.